Preschool 2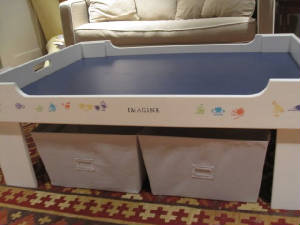 Imagination Station Activity Table
A dual surface activity table for imaginative play,building
projects,arts and crafts,trains and cars,castles and princess etc .....
Decorated with the fingerprints of the pre-K 2 students.
Preschool 3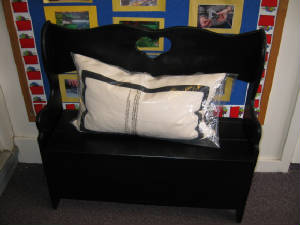 "Sit and watch us grow"
Black Amish style storage bench with a topiary on each end. The Pre K 3 students used their fingerprints to make each flower petal and picked a color to make a hand print inside. Accompanied by a black and white Pottery Barn pillow.
Seasons
This stunning art quilt shows a maple tree during the four seasons. The quilt features intricate piecing and appliquéd elements by an award-winning quilt artist, Christine Piepmeier, and was inspired by the beautiful trees that dot the Naval Academy golf course. The leaves are created from fabric squares painted with many small fingerprints, each one unique. This wall quilt will be a stunning feature in any home and serve as a reminder of the changing seasons of school and childhood.
Kindergarten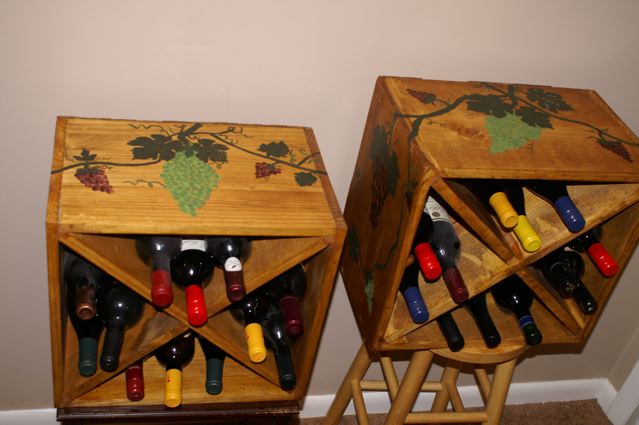 "Kindergarten's Grape Expectations"
Rustic wine storage boxes decorated with a grapevine. The kindergarten students used their thumbprints to add grapes to the vine. Accompanied by an assortment of wines, including a Vintage 1978 Robert Mondavi valued at $170.
First Grade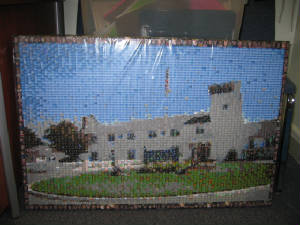 Snaps of NAPS
This giclee print on canvas (24"x36") of the NAPS school was created digitally from hundreds of photographs taken by the 1st grade students in and around the NAPS campus. From a distance, the photomosaic creates an Impressionistic depiction of an original photograph captured by Heather Crowder. Up close, it reveals tiny snapshots of the children and scenes from their 1st grade experience.
Second Grade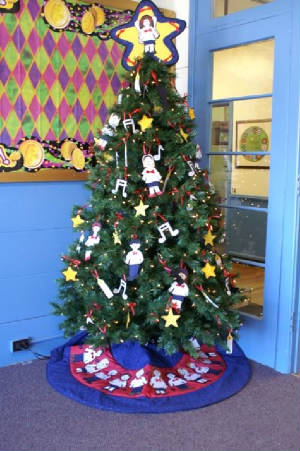 One Small Voice
Rekindle your cherished memories
of the NAPS Christmas Pageant year after year when you unfold this
beautiful, one-of-a-kind Christmas tree skirt and hang these adorable
ornaments, all hand made by the 2010 second graders.
Third Grade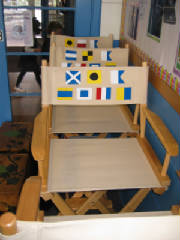 FUTURE CAPTAINS
Aye Aye Captain! Here's your chair. Your initial is on it, I see it right there! If your initial you cannot find, try for a third grader's, they won't mind!
~Set of 4 captain/director chairs decorated with nautical flags colored by each third grader in the initial of their first name. The chair backs contain flags that spell out NAPS
Fourth Grade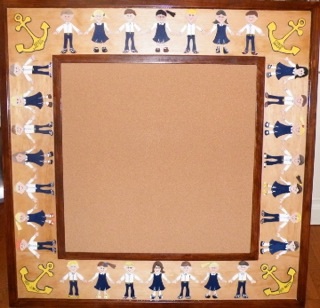 The children have painted themselves and signed their names all around the cork board. This is a functional piece and as well as a reminder of the special friendships and years the children have enjoyed at NAPS. This is a piece you will want to cast your bid for, it truly is special and one of a kind!
SCHOOL'S OUT!!
As our 5th graders prepare to leave the security of the NAPS anchor, this school of fish show their creativity and individuality as they swim away to their future.
~Decorated floor mat with an ocean theme.